Oxide Removal Two Sides In One Pass
Haeger SBM – B for Oxide Removal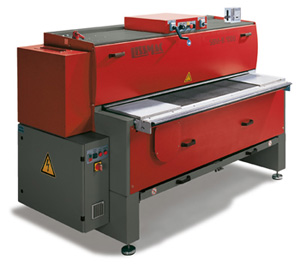 This revolutionary new machine can remove oxide from both sides of your laser cut parts in just one pass.
You will easily meet the demands of your toughest painting demands.
All parts up to 60" wide and 5/8" thick can be easily done on one machine.
The unique design of the counter rotating brushes means long lasting even wearing consumables.
The largest machine can process parts up to 4500 square feet per hour. The parts come out clean, free of scale, loose particles and rust and you get the additional benefit of breaking the sharp laser edges.
No more hand grinding, each part will be consistent and easily handled by one operator.
With this simple oxide removal process, you can use more oxygen to even faster and produce more parts with confidence.
You increased productivity will mean increased revenues.
Features:
Reliable, one step oxide removal on all edges of laser-treated sheets and plates up to ½ inch thick.
Rounding of all sharp edges.
Improved surface quality due to removal of rust, scale and dirt.
Dry operation — no removal of water or rust required.
Clean material for painting and powder coating.
Better quality of the sheet metal