More than 6000 users worldwide enjoy the high productivity and versatility of EUROMAC hydraulic notching machines daily. We invite you to join them.
Whether you choose a fixed angle notcher or a variable angle notcher, by adding the optional Multi-Station you can greatly increase the variety of tasks and shapes your jobs require. This means faster processing and more jobs you can accept.
Check out all the applications under tooling. This one of a kind work horse has features beyond any other in our competition.
The ultra rigid nodular cast iron monoblock (Meehanite casting guarantees our customers the best blade alignment and tool life in the industry.
There is an ideal EUROMAC notcher for practically any task you need to accomplish. Simply select the model with the combination of features that best fit your requirements.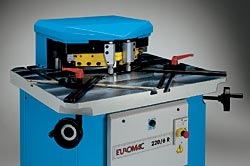 220/6 R Variable Angle Notcher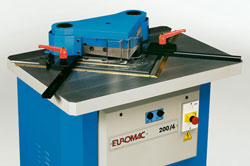 EUROMAC Fixed-Angle Notchers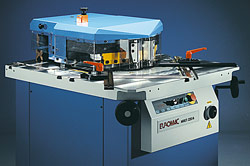 VA - MULTI 220/6R
Variable Angle MULTI Notcher